Cumbria County Council auctions historic weights and measures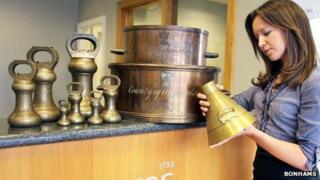 A collection of historic weights and measures is to be auctioned off to raise money for Cumbria County Council.
The 19th and 20th Century brass and bronze bushels, pecks, drams, and yard sticks are now obsolete due to time, technology and metrication.
Some items have been sent to museums, others kept for education purposes.
Dozens of lots will go under the hammer at Bonhams in Chester on 18 October, when it is hoped they will raise a total of £30,000.
Last used in the first half of the last century, the collection, which weighs in at several tons, had been stored in the attic of a council building in Carlisle.
'Door stops'
However, one Carlisle bushel will be missing from the sale. It was sold in 1868 by a Carlisle weights and measures inspector to pay the rent.
The star lot is a set of George IV Imperial Standard bronze alloy measures and matching yardstick for the County of Westmorland.
It is thought to be one of the first batch of around 2,000 sent out by the Exchequer after Imperial Standards had been created for the yard, gallon and bushel.
Megan Wheeler, from Bonhams, said buyers could include collectors, museums or people attracted by "the decorative and display potential of items included in many of the sixty lots on offer".
She said: "Bushels would provide the perfect vessel for plant and flower displays, and some of the larger brass weights, ideal door stops."