Keswick flood defence gates and barriers completed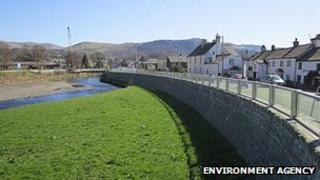 A £6m flood protection scheme for Keswick in Cumbria has been completed.
The Environment Agency-backed project, which will protect 180 properties, was ordered after the town was devastated by floods in 2005 and 2009.
Construction of the defences, which include flood walls and embankments and three flood gates, began in May 2011.
The town escaped flooding this week, which saw other parts of northern England hit in the worst September storm for 30 years.
Matt Crump, Environment Agency operations manager, said: "The flooding experienced across the UK this week is a stark reminder of what has happened in Keswick in recent years and the journey we've taken since then to get this flood risk management scheme in place.
"We are extremely pleased that this is now significantly reducing the risk of flooding from the River Greta and protecting the people of Keswick."
Lynne Jones, chair of the Keswick Flood Action Group, added: "We are delighted that the new river defences have been built, particularly as the careful choice of local materials has ensured the scheme blends in with the beauty of the town.
"We are also happy that the town will be better protected this winter, particularly after the extreme rainfall we've experienced over the summer months."