Pupils help in Ullswater clean-up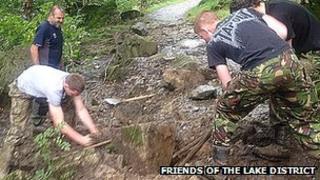 Volunteers, some using canoes, have gathered at Ullswater in the Lake District to take part in a day-long event to spruce up the area.
Almost 100 volunteers from schools and community groups are clearing litter, repairing footpaths and planting bulbs.
Dubbed Fell Care Day, the event, organised by Friends of the Lake District, is part of a project to maintain lakeside areas.
A similar event is due to take place at Windermere on 25 October.