Shelter could leave Cumbria over 'huge' legal aid cut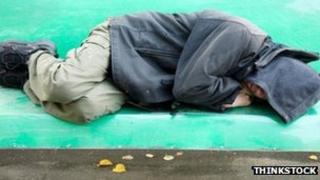 The housing charity Shelter could pull out of Cumbria because of "huge" cuts to legal aid, the BBC has learned.
The government is planning to cut the number of housing and social welfare cases eligible for legal aid funding.
Shelter says this would half the number of its funded clients in Cumbria, from 1,300 to 660, meaning a significant drop in income.
It said its Barrow office, which covers the whole county, would be one of the most affected and could have to close.
The government said legal advice was not always necessary and it would still fund high priority debt cases.
Chris Kirkby, who has been helped by Shelter, said he was "shocked and disgusted" by the suggestion it could be forced to leave.
"The private landlords are going to be wringing their hands when they move because there's no-one to fight our cases now," he said.
Shelter is fighting the proposed changes. Chief executive Campbell Robb said pulling out of Cumbria would be a "massive blow" for people who rely on the face-to-face service.
'No substitute'
Because of the type of cases dealt with in Barrow, and the way each is funded, Shelter says the office is particularly vulnerable to the cuts in legal aid which will potentially affect more clients than in other branches.
Mr Robb said: "With the ongoing recession, benefit cuts, and the high cost of housing meaning more and more people struggling to keep a roof over their heads, now is the very worst time to be taking away the housing safety net that helps people stay in their homes."
Shelter's helpline and website will remain but Mr Kirkby said they would be no substitute for the services currently offered in Barrow.
The Ministry of Justice said: "Legal advice is not always the only option and early practical advice can sometimes be of more help.
"After careful thought about which areas should be cut from legal aid, it [the Legal Services Commission] will be continuing to fund what it calls high-priority debt cases from a £50m fund".