Cumbria flood warnings in place as flood gates go up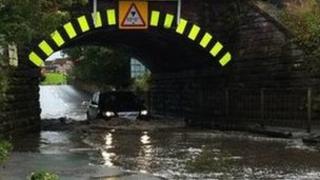 Homes were evacuated in the Morton and Upperby areas of Carlisle as heavy rain continued throughout Tuesday.
The Environment Agency said the heavy rain was expected across the North West where there are currently 38 flood alerts and 19 flood warnings.
Flood gates on the River Eden at Appleby Sands were raised and levels reached their peak by late afternoon, the agency said.
A landslip briefly closed the Carlisle to Settle railway line.
Cumbria Police said flooding had affected several parts of south Carlisle including Durbar and Dalston.
Flood gates at the rivers Eden and Caldew in Carlisle had been closed as a precautionary measure.
Heavy downpours across England have resulted in homes being evacuated, disruption to train services and school closures while many roads have been closed as a result of flooding.