Cumbria wildflowers thrive after hay meadow restoration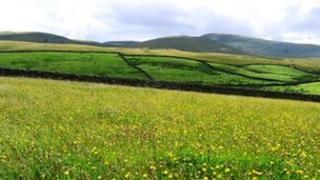 Wildflowers in Cumbria's hay meadows are "thriving", thanks to a restoration project by volunteers.
Cumbria Wildlife Trust and a group of volunteers restored a hay meadow at Row Foot, Ravenstonedale, after tests showed the soil had low fertility.
By harrowing the ground, they reduced the dominance of grasses and created germination sites for the wildflowers.
The ground was then spread with green hay and meadow grasses before about 4,000 wildflowers were planted.
Peter Hamilton and Maren White who own the meadow at Row Foot, said it now looked "absolutely beautiful".
Mr Hamilton said "When we moved here we were looking for a bit of land and ideally we wanted to turn it into as close to a nature-friendly place as we could.
"After the restoration of this meadow is complete we will let animals in to graze to as closely mimic as possible the traditional way of farming.
"It's coming along beautifully - we're very happy here."
About 100 hectares (250 acres) has been restored by the trust in the past six years.