CQC finds improvements on wards in Barrow and Lancaster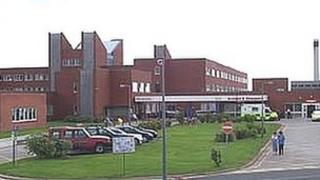 Maternity services at a Cumbrian hospital where a number of babies died have improved, according to the Care Quality Commission (CQC).
Furness General Hospital in Barrow was ordered to make changes along with the Royal Lancaster Infirmary.
Inspectors have now found quality and safety standards are being met.
University Hospitals of Morecambe Bay NHS Foundation Trust chairman Sir David Henshaw said there was real evidence of progress.
Unannounced inspections took place at both hospitals last month.
Police probe
Sir David said: "As we have said before, we have badly let the public down in the past.
"Since then, staff across the trust has been working hard to put this right and we are now seeing real evidence of change and improvement."
The trust has been the subject of investigations and inspections and Cumbria Police is still probing the deaths of a number of babies at Barrow.
In March, a "comprehensive recovery plan" was revealed as the trust revealed how it would make major changes to its services.
A report by the CQC in July found patients of the trust were at risk of "poor care". A further full review will be carried out before January.
The trust's chief executive Jackie Daniel said: "I genuinely believe that our midwives and doctors come to work to do a great job, day in, day out, and in the vast majority of cases, this is exactly what happens.
"They have risen to the challenge that the public and our regulators have rightly demanded of them - to consistently provide safe and high quality services."