How smart is a smartphone in the hills?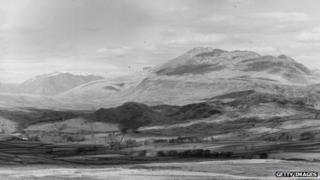 The weekend has arrived, the trip to the Lake District is uneventful and Scafell Pike is the first thing you see on a breezy summer's morning.
You have been told it's a fairly simple walk, so you feel invincible with your smartphone with its GPS app.
But two things not in your day-bag are a compass and a map.
Rolling clouds became low clouds gathering close to the mountainside and before too long, the valley has disappeared behind a veil of clinging mist.
Your nerve rapidly disappears too - you are well and truly lost - and the time has come to call for help with your smartphone and you hope the battery will last.
Map and compass
This is an all too familiar scenario for Mountain Rescue Teams (MRTs) these days.
Many of the calls are from people with a "trusty" smartphone and a downloaded map but who still have no idea where they are.
Mike Park, of the Cockermouth MRT, said a call like this happened only very recently.
"We had a call from two walkers," he said, "they had phoned to say they were lost in mist on Starling Dodd and were unable to find the path to Red Pike.
"Our MRT turned out and were able to safely walk them down through the mist to the valley," he added.
But that could so easily not have been the happy outcome that it was.
You can purchase a hand-held GPS device for between £25 and £500, but it is not the technology that is in question, it is the users' map reading skills.
What if the battery runs out, what if the signal fails?
Carlo Forte is chief instructor at Plas y Brenin, the National Mountain Centre in Wales and he recently published a book - Navigation in the Mountains.
He says that with the accessibility of smartphones and GPS technology there is a tendency to use them as the primary navigational tool as opposed to the map and compass.
"GPS is available in everyday life these days and with them being widely used in cars, many people feel they can easily use them in the hills too.
"But smartphones are configured very differently and the battery life can be poor.
"A hand-held GPS is better and you can at least whack in another set of batteries when they run out," he added.
However, Mr Forte is unequivocal in his advice on one vital issue.
"The crucial point is these devices should only be used to augment core skills of being able to read a map and accurately interpret what you see in front of you with what's on the map and vice versa," he insisted.
Mr Park of Cockermouth MRT does have some praise for the devices.
"There is no doubt that smartphones have saved many lives on the mountains and hills.
"In days before they were on the market, it could take up to four or five hours to get to a phone box.
"But today ,the initial and vital time when a mountain injury happens is slashed by contacting 999 or the MRT with a mobile phone and the MRT can get going fast," he added.
Another aid that the Cockermouth and other national MRTs are using today is a software called Sarloc.
This has been developed by Russ Hore of the Ogwen Valley MRT.
Mr Hore designed the software for walkers who have a smartphone and who find themselves lost in the hills.
The walker calls the MRT and is sent a text message with a web page link.
The walker clicks this link and a page opens on the phone's browser.
The link requests the phone to identify its location as a latitude/longitude coordinate.
This location data is then displayed to the walker and will automatically be added to the MRT's on-screen information.
The MRT can then identify the phone and caller's location on a digital Ordnance Survey map allowing the rescue to get under way.
For expert information on how to venture into the hills responsibly, The British Mountaineering Council recommends two free downloads: Hill skills: map basics and Climb skills: heading outside.