Cumbria's Lucky 13 osprey 'lucky to be alive'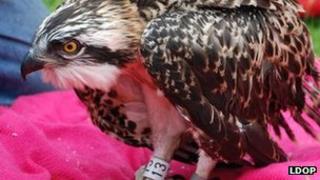 As the osprey season in Cumbria closes, a chick that flew its nest before its parents is lucky to be alive, according to the Lake District Osprey Project.
The male bird was named Lucky 13 after surviving unusually cold and wet conditions in the Bassenthwaite valley.
Workers and volunteers at the Lake District Osprey Project (LDOP) look after ospreys when they return to Cumbria from Africa.
The LDOP said the conditions had posed serious problems for the birds.
Ella Dixon, from the LDOP, said: "There's two main things we observe, one is getting too cold so they can't open their mouths to be able to feed.
"And also fishing is harder when the wind and rain is strong because it impairs their vision.
"Luckily, the youngster survived it all."
The Dodd Wood osprey lookout is open from April until the end of August.
Nathan Fox, Lake District Osprey Project Manager, said: "I was there looking after the birds in 2001, when the first chicks hatched.
"In the late 90s, ospreys were seen hanging around a little longer than expected which excited enthusiasts.
"Platforms were put out around the Bassenthwaite hillsides to encourage them to breed.
"They bred there until 2007, and have since used a number of nests around the valley."
Millionth visitor
An autumn storm last year destroyed the valley bottom nest that had been made by the birds in 2011.
Mr Fox and some of the 100 volunteers on their books came to the rescue.
He said: "We had a storm in September, but we decided to rebuild the nest for them and that's the one they've been using this year."
The ospreys returned, bringing visitors from across the UK and beyond to see them in treetop nests and hunting for fish in the lake.
Earlier this week, John Smallman, who lives in Oldbury in the West Midlands, was the one millionth visitor to experience the two remaining ospreys.
He said: "It's just incredible to think about the distance they travel to come to the Lake District but I don't blame them.
"Another million people should get here as soon as possible."
The volunteers, who help run the visitor centre and viewing areas, have clocked about 10,000 hours this year.
Ms Dixon said: "The fact we have our millionth visitor is not only testament to how much people love wildlife and the area, but to the volunteers who make it worth while.
"A lot of people come here for the ospreys, but then they'll see red squirrels, woodpeckers, lizards and all sorts of wildlife and the views are incredible."
A total of 24 osprey chicks have fledged in Cumbria since 2001.