Keswick osprey chick leaves for Africa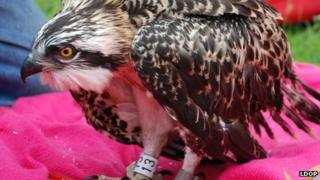 An osprey chick hatched in Cumbria in May has left the county on migration towards Africa.
Confirmation of the flight from Keswick came from the satellite transmitter attached to the bird in July.
The male osprey chick has been given an identification ring and has been named Lucky.
Ella Dixon, from the Lake District Osprey Project, said: "The latest information from the satellite tracking device placed him near Derby."
She added: "The bird started his journey on Sunday through the South Lakes, into Lancashire and the last recording placed him just north of Derby."
The male parent of the chick hatched in the Lake District during 2007.
Identification of the mother is not known as she is not ringed.
The tracking device has been programmed to record the speed, altitude and course of the bird every hour.