North Lakes Foodbank demand 'increases by 600%'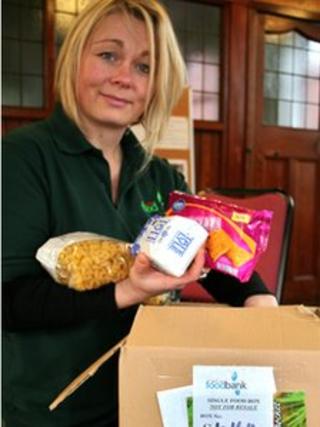 A foodbank in Cumbria has reported a 600% increase in the number of people using its service over 18 months.
North Lakes Foodbank now feeds about 240 people a month, up from about 40 people a month at the start of 2010.
Jessie Hendry, project co-ordinator, said she was "not surprised" at the increase in light of the current economic climate.
Four permanent collection points at supermarkets in Allerdale have been launched to encourage more donations.
Thr foodbank, which has distribution centres in Whitehaven and Cockermouth, works by redistributing donated food to people who are going through financial crisis and struggle to buy food.
'Rising demand'
Ms Hendry said: "We are experiencing people with less hours at work and who are on a lower income and with the whole economic crisis that the country is in it's not a surprise.
"We are here to meet a demand and certainly that demand is rising."
The scheme operates with voucher holders such as charities, citizens' advice bureaux and children's services, giving people vouchers so they can collect boxes.
It gives out about a 1.5 tonnes of food a month which is donated by churches, schools, community groups and small businesses.
The foodbank is one of 230 across England set up by the Trussell Trust.