Cumbrian volunteers revamp historic 1930s carriage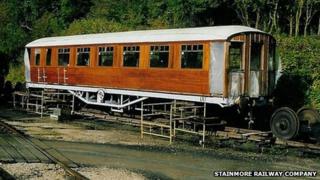 A train carriage dating back to the 1930s which was stripped and used for railway maintenance is being given a new lease of life by volunteers.
The LNER Tourist Third Open (TTO) coach No.60505 was built in York in 1936, but was taken out of passenger service in the 1960s.
The train was then used for duties such as carrying tools and equipment for railway maintenance.
Now, in a 10-year project, a group of volunteers are restoring the coach back to its former glory as a passenger vehicle.
Mike Thompson, who is managing the project, said its completion was "tantalisingly close".
The coach arrived at Kirkby Stephen East in 2002 after being purchased from Historic Scotland.
On its arrival, the coach was lifted off its wheels and the wooden body was stripped and the underframe repaired.
The teak body has now been restored and varnished and the canvas roof has been replaced.
'A proud day'
From the interior, everything has been removed from the seats, right down to door handles and coat hooks.
Mr Thompson said: "This will be the first time since the interior was stripped by British Railways in the 1960s that this beautiful coach will once again look like a passenger vehicle, and will signal the beginning of the end of this long-term project.
"We are very pleased that the varnished teak exterior is now almost back to the condition it would have shown when first built at York in 1936."
All the interior fittings have been copied exactly from surviving examples in coaches at other heritage railways.
Now, to complete the project, the interior is getting a makeover, with the 26 bucket seats being upholstered thanks to £11,207 from the Rural Development Programme for England (RDPE).
The group hope to complete and install the seats by the end of 2012.
Once completed, the coach will be used as a passenger vehicle at Stainmore Railway by the end of 2013.
However, the project needs another £25,000 in donations for the final part of the project.
Mr Thompson said: "It will be a proud day when she's finally complete and waiting at the station platform for her first passengers to climb aboard and go back in time.
"Many of our friends in the Upper Eden Valley and further afield have vivid memories of their trips on the line, whether to go shopping, travelling to see friends or family, or indeed, in darker days, on their way to military service.
"It will be an emotional moment to many people for many reasons when she pulls away from the platform for the first time."