More than 1,100 Cumbria children 'regular smokers'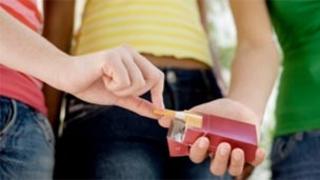 More than 1,100 children aged between 10 and 14 in Cumbria, 5% of the total, are regular smokers, health officials have revealed.
The figures, compiled by Cancer Research UK, are being hailed as evidence branding should be removed from tobacco packs sold in England.
According to the Department of Health about 900 people die each year in Cumbria from smoking-related illnesses.
The government is consulting on proposals to remove the branding.
Research in Australia, where a branding ban already exists, suggested cigarette packets had increasingly become an important marketing tool since restrictions on advertising and sponsorship were brought in.
'Peer pressure'
Su Sear of Cumbria Public Health Partnership, said: "With regulation in place to restrict television, radio and other advertising, packaging is becoming more and more important to the tobacco industry to help sell their products.
"If the new plain packaging law is passed, this will change.
"The health warnings will become bigger and more eye-catching against a plain background. This means that by making packaging plain, health warnings will become more effective."
The Tobacco Manufacturers' Association (TMA) said it welcomed the government's consultation.
But a spokeswoman said: "There is no reliable evidence plain packaging will reduce rates of youth smoking.
"Smoking initiation in children is actually linked to a complex range of socio-economic factors including home life, peer pressure and truancy and exclusion from school."