Keswick osprey chick satellite transmitter fitted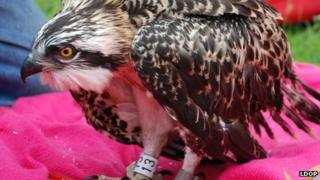 A six-week-old osprey chick hatched in Cumbria has been fitted with a satellite transmitter to allow it to be tracked on migration to Africa.
The bird also had a health check at its nest near Keswick.
The solar-powered transmitter is attached to the chick by a harness, like a tiny rucksack, and is expected to last for three years.
The chick, thought to be male, will make the migration to Africa in late August.
'Soggy Lake District'
The male parent of the chick hatched in the Lake District during 2007.
The identification of the mother is not known as she is not ringed.
Pete Barron of the Lake District Osprey Project said: "The last ospreys we satellite tagged in 2010 ended up in Mauritania and Senegal.
"It will be fascinating to watch the progress of the osprey when it leaves the soggy Lake District and makes its own way in the world."
The transmitter is accurate to a distance of 18 metres.
It has been programmed to record the speed, altitude and course of the bird every hour.