Cumbria farmers' markets affected by van theft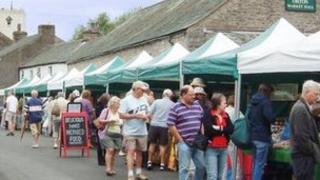 Farmers' markets in south Cumbria have been affected by the theft of a van containing stalls and other equipment.
The Ford Transit, used by a community enterprise company Orton Farmers' Ltd, was taken from a farm near Tebay.
Inside were 15 green and white striped pop-up stalls, a generator, weights, a PA system and signage.
The market co-ordinator said that renting the items would greatly add to the cost of the events, which benefit local farmers and other businesses.
Leanne Duerden said: "This equipment isn't just used at Orton Farmers' Market but is also shared with the markets at Brampton, Cartmel and Pooley Bridge so it is a huge loss.
"We realise that the van may be gone for good but we're pretty sure that someone may try to sell on the contents once they realise what's there.
"If anyone contacts the police with information that helps us find and return the equipment, we'll certainly try to make it worth their while with a hamper of local produce.
"It's the least we can do."