Everest expedition climber Westmacott dies, aged 87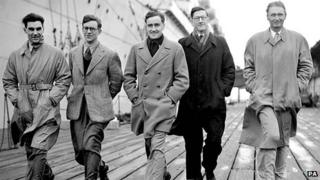 The last British climbing member of the first team to conquer Everest has died at his home in Cumbria.
Mike Westmacott, 87, was part of the expedition that saw New Zealander Sir Edmund Hillary and Tenzing Norgay climb the world's highest mountain in 1953.
He was 27 years old at the time and helped to find the route through the icefall.
He also created the Himalayan Index, a reference resource now used as a research tool for mountaineers.
Mr Westmacott was one of the first four people to go to the icefall and help prepare the route.
'Superb moment'
During the expedition he went up to Camp 5 and approached Camp 6 but could not go further because of sickness.
He then spent the rest of the expedition keeping the icefall open, while the other mountaineers were up above it.
He described his most memorable moment as being the return of Sir Edmund Hillary and Sherpa Tenzing Norgay from the summit.
He said: "They were only 100 yards away from the camp when we realised they'd done it - that was a superb moment."
Born in 1925, he read mathematics at Oxford University, where he was also president of the mountaineering club.
'Lasting contribution'
Although he was an experienced rock climber and alpinist, the expedition to Everest was his first to the Himalayas.
He learned of the expedition from a friend as they descended the Matterhorn and, when he got home, applied and was accepted.
At the time of the Everest trip Mr Westmacott was working as an agricultural statistician at Rothamsted Experimental Station.
He then moved to Shell where he spent the rest of his career before retiring in 1985 to the Lake District.
Announcing the news of his death on its website, the British Mountaineering Council said: "Mike was a true servant of British climbing, not only as a club president but also as a committee member of the Himalayan Trust in the UK.
"Perhaps his most lasting contribution was his conception and realisation of the Himalayan Index, a reference resource that lists over 2,500 peaks in the Himalaya and provides an essential research tool for exploratory mountaineers."
Mr Westmacott leaves a wife, Sally, and family.