Sellafield Thorp site to close in 2018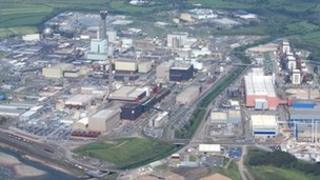 Sellafield's Thermal Oxide Reprocessing Plant (Thorp) in Cumbria is to close in 2018, it has been confirmed.
The Nuclear Decommissioning Authority (NDA) said it had completed its strategic review of the options for the management of oxide fuels.
It said processing contracts would be completed by 2018, at which time Thorp would cease reprocessing activities prior to decommissioning.
Prospect union said the announcement was a "great disappointment".
The NDA said many of the 800 workers should be found work elsewhere at Sellafield.
Prospect National Secretary Mike Graham said they would press the company for discussions about potential redeployment.
He said: "The closure will see a reduction in the numbers employed on the plant once operations cease, with only a fraction of the existing staff remaining during the clean-out phase prior to decommissioning."
An NDA spokesman said it had published three options for the Thorp site in March last year which had been under consultation.
The options were to close Thorp without completing contracts, to close it after completing the contracts or to extend the life of the plant by looking for new contracts.
'No cliff edge'
The NDA board agreed with the preferred option of closing after completing the contracts.
The spokesman said the decision was due to falling demand for reprocessing and the relatively low cost of uranium.
If Thorp was to continue running beyond 2018 it would require a multi-billion pound upgrade, he added.
The spokesman said there would be "no cliff edge" of job losses in 2018 as once the plant stops operating there would be a two-year period of post operations.
The NDA said the review confirmed its position that completing the reprocessing contracts at Thorp remained a viable and cost-effective strategy.
Oxide fuels include the remaining overseas-derived spent fuels that are being stored at Sellafield before reprocessing at Thorp and also the spent fuels from the UK's fleet of Advanced Gas-Cooled Reactor power stations, which are owned and operated by EDF Energy.
The Thorp site started operating in 1994.