First osprey of year hatches at Bassenthwaite nest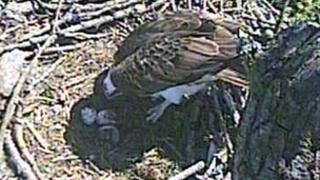 The first osprey chick of the year has hatched at a conservation spot in the Lake District.
Last month three eggs were spotted in the nest built by conservationists at Bassenthwaite, near Keswick.
One egg was broken before it was ready to hatch, but one chick has now successfully hatched, watched by its mother. The third egg is yet to hatch.
The nest, which is watched via video by wardens, was built in 2001 to encourage breeding. Incubation can take 42 days.
'Keep it cool'
Charlotte Widgery, warden of the Lake District Osprey Project, said: "We are delighted - it is better to hatch when it is nice and hot as chicks struggle in the cold.
"The mother will be working hard to shade the chick with her wings to keep it cool."
Visitors to Bassenthwaite can watch them through high-powered telescopes at the Dodd Wood viewpoint, overlooking the lake.
Live images from the nest are also beamed to a big screen at the nearby Whinlatter visitor centre.
The Lake District Osprey Project is managed by a partnership of the Forestry Commission, Lake District National Park Authority and the RSPB.