Shap church gets £6,000 grant for roof repairs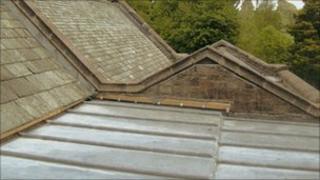 The campaign to repair the roof of a church in Cumbria has received a surprise donation from a utility company.
Thieves stole lead from the roof of the Grade II Listed St Michael's church in Shap during May 2011.
Damage estimated at more than £32,000 was caused but the insurance policy would only cover some repair costs.
United Utilities awarded the grant of £6,000 after the Reverend Martin Dew blessed Shap's new £13m sewage works.
Mr Dew said he was stunned and touched by the surprise grant.
"Our insurance did not cover the cost and we were left trying to find the money from the community.
"We had people from all over the country who had an association with Shap writing to us.
"One former choirboy got in touch and sent us a cheque."
Fundraisers collected £26,000 in 13 weeks.
Project manager with United Utilities Simon Povey said the project team had been given so much support by the local community in Shap that engineers wanted to show their appreciation.
United Utilities said the new plant was one of the most technologically advanced in the country, and one of only two in the North West to feature a membrane bio-reactor to clean water.
Work has now been completed on the repairs and an alarm system has been installed.