Three osprey eggs spotted in Cumbria nest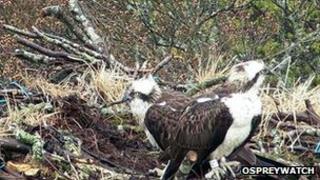 A pair of ospreys in north Cumbria have laid three eggs after returning from a winter spent in Africa.
The birds are occupying a nest built by conservationists at Bassenthwaite, near Keswick.
She is thought to be a returned female and her mate hatched nearby, during 2007.
The Lake District Osprey Project think the first egg was laid on 18 April. Incubation is carried out mainly by the female and takes between 37-42 days.
Ella Dixon from the project said: "It is wonderful news that this new pairing has successfully mated and produced a clutch.
"We will now be waiting anxiously over the coming weeks, hoping that the chicks will hatch. "
The female osprey is now spending most of her time on the nest, incubating her eggs. She has also been observed taking a bath in a nearby stream.
The male, ringed as YV, has been seen bringing in bits of moss and twigs to the nest.