Osprey in return to Cumbria nest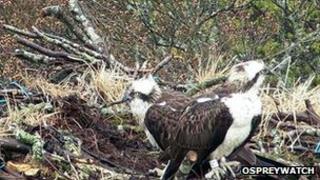 A male osprey which hatched in the Lake District in 2007, has returned to a nest in Cumbria.
Ringed as YV, the bird has joined a female that had already returned to Bassenthwaite near Keswick. The pair have started mating and nest building.
It is believed the female, first spotted in March, might be the same one seen in the area last year.
Ospreys fly south to Africa during late autumn, returning to the UK towards the start of April.
The birds' nest blew down last winter and this year the birds are using a new platform erected by conservationists.
Barbara Thomson, from the Lake District Osprey Project, said: "Although we think it is the same female bird as last year because of her markings and behaviour on arrival, we cannot be 100% sure as she is not ringed.
"She could be a look-alike but completely unrelated bird."
There is still no sign of a male bird, who is believed to have bred in the area every year since 2001.