Osprey spotted in Cumbria at start of nesting season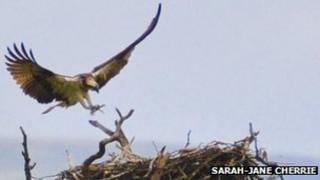 A female osprey has been spotted in Cumbria at the start of the nesting season.
Ospreywatch, which involves more than 100 volunteers, has brought millions of pounds to the local economy as spotters flock to see the rare birds of prey.
The unidentified female was spotted on a nest near Keswick on Friday but it is not known if she will remain.
Ospreys fly south to Africa during late autumn, returning to the UK towards the start of April.
A pair of ospreys first nested near Bassenthwaite Lake in the Lake District in 2001 and raised a single chick - the first for more than 150 years.
Since then the ospreys have changed nest site twice; in 2008 they moved from their artificial treetop home at Woodend, Thornthwaite Woods, to another man-made nest at Dodd Wood, and in 2011, they decided to build their own nearer to the lake.
As the birds moved last year, no nest camera footage was available, so this time the Lake District Osprey Project (LDOP) team has installed cameras on three nest sites.
This includes one in last year's nest, which had to be rebuilt after it was destroyed by the weather.
A total of 23 osprey chicks have fledged in Cumbria since 2001.
Nathan Fox, from the LDOP, said: "The project is a massive team effort with many local people giving up a lot of their free time to make it a success.
"We are all keeping our fingers crossed that the birds return to Bassenthwaite soon - and to a nest where visitors will be able to get great views of them and their chicks."
Volunteers provide 24-hour nest security and provide information to visitors at the osprey viewpoints.