Cumbria gets government funding for first electric buses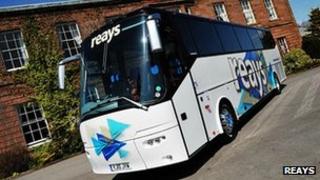 Cumbria is set to get its first electric-powered public buses after receiving £174,000 of government funding.
Family run firm Reays of Wigton, will use the funding to help buy two diesel hybrid electric buses.
The hybrid's will operate on two different routes around Carlisle from Spring 2013.
Managing director Chris Reay, said it was "really exciting news" for the company and the area.
The energy efficient buses run on a combination of diesel and a battery, reducing fuel consumption by about 30% and emissions by around 70%.
They also cut out noise pollution with their quieter, fumes-free electric power.
'Pioneering and innovative'
Mr Reay said: "This is really exciting news that will benefit everyone who lives in, works in or visits Carlisle, for whatever reason.
"We are proud to be leading the way again for Cumbria with this pioneering and innovative initiative. It will deliver genuine transport and health benefits for everyone in north Cumbria."
Reays plan to use one of the vehicles on its number 75 service between Dalston and Cotehill via Carlisle, with the other route yet to be decided.
The money was awarded from the latest round of the Department for Transport's Green Bus Fund.
The eco-friendly buses cost £209,000 each, so Reays hope to find the remaining sum of nearly £250,000 from public and private sector sponsors.