Mothballed Ambleside campus to open within two years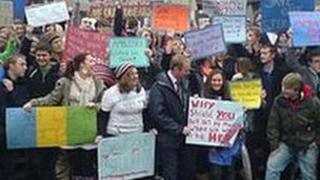 A campus which was mothballed two years ago because of financial problems is to reopen, the University of Cumbria has announced.
Ambleside campus will be refurbished and new departments built, including a science centre.
The university said it was hoped the campus would reopen in 2014 and all students transferred from the Newton Rigg site by early 2015.
The campus was shut down in 2010, sparking protests from students.
Pro-Vice Chancellor Professor Liz Beaty said the university's financial situation had improved in the last 18 months.
She said: "Severe economic conditions necessitated the mothballing of most of the campus.
'Sustainable future'
"But the university always had the desire to redevelop it in a sustainable way once circumstances allowed, specifically in programmes relevant to the location and community.
"With the successful turnaround in the university's financial position in the last 18 months, we now have the opportunity to start working with others to develop a long-term, sustainable future in Ambleside."
It is hoped there will be 700 students at the campus when it reopens and that it will offer short and intensive courses for international pupils.
The university has more than 12,000 students at campuses and sites in Carlisle, Penrith, Lancaster, Whitehaven, Barrow and London.