Students in Cumbria develop a pothole reporting app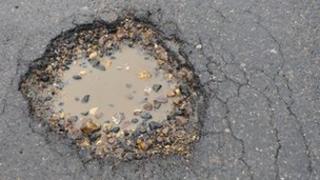 Students from the University of Cumbria have developed a mobile phone application that could make it easier to report potholes and graffiti.
Cumbria County Council and local businesses challenged the students with the project in September to help increase their employability.
Although still only a concept, the app can send the pothole location and other details directly to the council.
The students are in the final year of an applied computing degree course.
Councillor Tony Markley, cabinet member for highways and economic development, said: "When the county council pitched the idea to the students we aimed to offer them a real-world project that would increase their employability.
"And in return the students would use their skills to create something of social value for the people of Cumbria.
"These projects are a great example of what the county council could do with a small investment.
"Although the app is currently a proof of concept, it may be something that the council could look to invest in further."