Whitehaven motorcyclists show charitable face of biking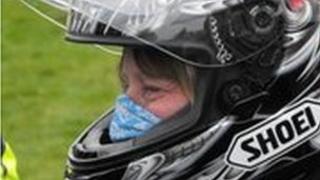 When Anne Crayston and fellow riders from her Cumbrian motorbike group decided to start charity collections 20 years ago, one of their main aims was to challenge anti-biker opinion.
Fresh from donating more than 200 Easter eggs to charities in the county after their most recent collection, she hopes they have gone a long way towards achieving that aim.
Twice a year - the second time is at Christmas - Whitehaven Motorcycle Action Group (MAG) collects tins of food, toys and Easter eggs to distribute to charities for old, sick or disabled people, children and animals.
The 37-year-old, who started riding when she was 17, said part of the reason for starting the runs was to challenge some people's preconceptions that bikers were "a faceless person behind a helmet".
'Great feeling'
"When I first started riding bikes you got the feeling everybody thought you were riding around on a big chopper-style bike, with big loud pipes and cut-off leathers, and that was the kind of person they didn't like," she said.
"What people forget is that that person behind the helmet is also a wife, a husband, a solicitor, a nurse, a doctor.
"People just don't comprehend that they are a human being, have a family to go home to at the end of the day and aren't out there to upset people, we're just out there to enjoy what we do."
In the past, the Easter collection involved the eggs being delivered by a convoy of up to 400 motorcyclists riding through Cumbria - an event Ms Crayston said was fantastic to be part of.
She said: "Because we live in such a rural area... 400 bikes spread out quite a length.
"People got to know us... would come out of their houses and give us a wave.
"It was superb. It was a great feeling."
The convoys were held every year from 1992, interrupted only by the foot and mouth crisis in 2001, which devastated Cumbria.
Unfortunately, due to the economic pressures, the police are currently unable to support the riders as they once were by providing officers to ride with the convoy.
Ms Crayston said over the years they had developed a positive relationship with the police and understood the pressures they were under.
But she said she was hopeful that when the economic climate started to look a bit brighter it was something they would be able to support again and will mean the Easter convoy can return.
In the meantime, this was the second year the group set up a collection day instead of the convoy with people bringing their Easter eggs to Keswick and charities coming later to pick them up.
The Christmas collection, which involves a collection of tinned food, still involves a convoy because it is done on a much smaller scale.
Touched by reaction
The winter run involves collecting tinned food which is packed into hampers to support Age UK and dog food is given to two animal charities in Cumbria.
Ms Crayston said even when the Easter convoy had to stop, there was no question of the egg collection coming to an end.
She said: "At the end of the day it could have stopped, but it would have been the charities that would have lost out. We wanted to carry on for that."
And she said it made it all worthwhile when they met some of the people who helped with their collections.
She said she had been particularly touched by the reaction of people involved with Age UK when they handed over the eggs.
As well as the charity collections, the Whitehaven group also provides marshals for a number of events around the county.
And all that, Ms Crayston hopes, has helped to paint bikers in a positive light.
"Just because you wear leathers, doesn't mean you don't care about the community," she said.