Cumbria flood PC Bill Barker honoured for his bravery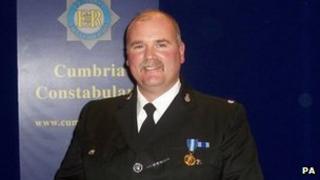 A Cumbrian police officer has been awarded the Queen's Commendation for Bravery for sacrificing his own life to save others.
PC William "Bill" Barker died on duty during the flooding in Cumbria in November 2009.
He was checking for people in the water when the bridge he was standing on collapsed beneath him.
The citation says "PC Barker paid the ultimate price for his selfless actions."
His colleagues at Workington police have created a garden in his memory.
His wife Hazel and his four children have since held fundraising events in his memory for the air ambulance.