Chernobyl controls on Cumbria sheep farms to be lifted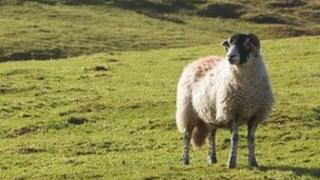 The last few farms in England covered by restrictions on movement of sheep following the Chernobyl nuclear disaster are to have them lifted.
After the 1986 disaster, radioactive particles became locked in upland peat and accumulated in grazing sheep.
The Food Standards Agency (FSA) placed restrictions on 9,800 UK farms, but almost all of them are now free.
They now only affect eight in Cumbria, and 327 in Wales, and are due to be removed from 1 June.
Under the "mark and release" restrictions, sheep had to be tested for levels of Caesium-137 prior to being moved down from the fells for sales.
Farmers were paid a headage fee of £1.30 per animal to compensate for the cost of holding them before monitoring.
The controls were lifted in Northern Ireland in 2000 and in Scotland in 2010.
'Nuisance value'
Following a 12-week consultation on the remaining controls, the FSA said they were "no longer proportionate" to the "very low risk" and lifting them would not compromise consumer safety.
Jim Capstick, from Fellside Farm South Cumbria, said that while the monitoring initially caused some problems it was now just "a bit of a pain".
He said: "For a long, long time there's been no danger.
"It's more of a nuisance value for us now, so once it's gone, it's gone."
Adam Briggs, policy advisor for the NFU in the North West, described the move as a positive step.
He said: "For many people Chernobyl is a thing of the past but it's something very real for those farmers who have been dealing with the consequences for more than 25 years.
"Now that the FSA has proven the meat is safe to eat it will finally allow the farmers to draw a line under this and move forward."