Lake Canada Geese cull branded 'immoral' by RSPCA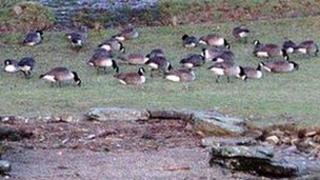 Plans for a cull of 200 Canada Geese on Windermere would be "ineffectual" and "immoral", the RSPCA claims.
Rangers said the birds had been causing environmental problems on the lake and other control measures had failed.
RSPCA chief executive Gavin Grant said there were alternative solutions and warned if the cull was not carried out lawfully it would consider prosecution.
The Windermere Geese Management Group (WGMG) has said it would be carried out "professionally, quickly and humanely".
Earlier this month it was announced the cull would go ahead despite more than 2,500 people signing a petition against it.
The group said the geese had caused environmental problems by grazing and polluting the lake with droppings.
It also said the cull would control the impact of an "invasive species".
'Bloody stain'
Mr Grant said it had requested a meeting to discuss its concerns and was disappointed that had been rejected.
He said: "The purpose would have been to set out our scientific opinion as to why the proposed cull will be utterly ineffectual as well as immoral.
"Shooting birds on the nest is barbaric and has the potential to cause a great deal of suffering and it simply won't work as other non-nesting birds will quickly move in to replace them."
Mr Grant said such a cull would be a "bloody stain" on Windermere.
"Should the cull go ahead we will take up their offer to observe it and we give due notice that should our expectations that it cannot be carried out lawfully prove to be correct we will not hesitate to move forward to prosecute those involved," he said.
A Lake District National Park Authority spokesman said the date the RSPCA had suggested for a meeting was not convenient.
He said: "However, the WGMG is willing to meet the RSPCA at any mutually agreed time in the future and an offer has previously been made to allow the RSPCA to monitor any cull of the geese."