MMR vaccination uptake at record level in Cumbria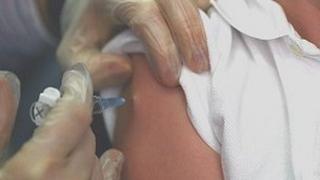 Record levels of children across Cumbria have been getting protection from measles, mumps and rubella (MMR), health bosses have said.
The MMR vaccine is given in two doses, the first after the age of one, the second before the child starts school.
Over the past 12 months there has been a 95.4% take up rate in the first dose, the highest ever recorded.
Figures in previous years have been under the 90% mark. The government target is 95%.
Measles, mumps and rubella are highly infectious, common conditions that can have serious health complications, such as meningitis, swelling of the brain (encephalitis) and deafness.
Dr Nigel Calvert, NHS Cumbria's associate director of public health, described the take up rate as "very encouraging".
He added: "It is very important if your child is invited for a vaccination that you take it up and ensure that they have the full number of doses offered."