Grieving father gets apology after 'distressing' email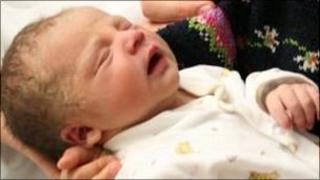 A grieving father is to receive an apology and £1,000 from a Cumbria hospital over an email which caused him "unjustifiable" distress.
James Titcombe's son, Joshua, died at Furness General Hospital when he was nine days old. Midwives repeatedly missed opportunities to spot and treat a serious infection, an inquest heard.
During an investigation a midwife sent an email headed "NMC shit".
Mr Titcombe said he welcomed the acknowledgement of wrong-doing.
The email contained "personal" family details and was sent to the wrong address. Midwives from the trust were under investigation by the Nursing and Midwifery Council (NMC) following Joshua's death in 2008.
The Health Service Ombudsman said that in August 2009 an email containing a midwife's draft responses to NMC questions went astray.
It said the midwife had asked a colleague to forward it to her husband's personal email address, so she could work on it at home, but the colleague appeared to have sent the email to the wrong address.
'Not accountable'
The ombudsman said the University Hospitals of Morecambe Bay NHS Foundation Trust had been "open and accountable" in informing Mr Titcombe about the email error within three days.
However it said the trust had not been "open and accountable" in not disclosing the email's title.
Mr Titcombe asked to see the email, or a summary, to confirm that its contents would not raise "undue concern" to the family.
He was given the details and reassured it was a "professional account of the midwife's recollection of events".
In December 2010 Mr Titcombe requested a copy of the report into the error and was sent an electronic copy of the email. He was able to reverse the deletion of the email's heading.
Mr Titcombe notified the NMC and complained to the trust about both the data protection issues and the email's title.
Other concerns
The Ombudsman said The University Hospitals of Morecambe Bay NHS Foundation Trust was guilty of "maladministration" in the way it responded to the complaint.
As well being required to give Mr Titcombe an apology and compensation, the trust has been told to respond to his other concerns which include the trust not informing the NMC of the incident until after it had already received Mr Titcombe's complaint.
He said: "We welcome the ombudsman's report and hope it sends a clear message to the trust's management that they simply can no longer treat people in this way.
"My family and I still cannot comprehend how anyone involved with the preventable death of a baby boy could title an email relating to what happened, 'NMC Shit'.
"We are left wondering how many other incidents like this have been swept under the carpet and how many other families have been misled in a similar way by the trust."