Grayrigg crash victim's son 'disgusted' by knighthood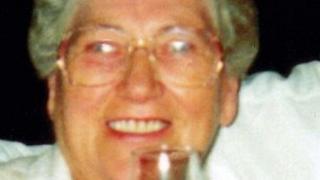 The son of a Glasgow woman killed in a train crash in Grayrigg, Cumbria, says he is "disgusted" Network Rail's former boss was given a knighthood on the same day the firm accepted responsibility.
Sir John Armitt was chief executive of the company at the time of the crash, which killed 85-year-old Margaret Masson and left 86 people injured.
George Masson said he should be immediately stripped of his honour.
Sir John said he understood the Masson family's "distress and anger".
He was knighted at Buckingham Palace on Wednesday.
At the same time, Mr Masson attended a hearing at Lancaster Magistrates' Court where Network Rail lawyers, for the first time in court, admitted responsibility for the crash five years ago.
Mr Masson said: "Why give him a knighthood? He shouldn't be getting a knighthood, it should be taken off him.
"This stinks. He doesn't deserve it. He was the top man who should have known what was going on."
'Distress and anger'
Sir John said: "I have never hidden from the fact that the accident at Grayrigg happened on my watch.
"I entirely understand the distress and anger of the Masson family, but I can assure them that safety was the number one priority for me during my time at Network Rail."
Sir John, who left Network Rail six months after the Grayrigg crash to be appointed as chairman of the Olympic Delivery Authority, received his honour for services to engineering.
The inquest into Mrs Masson's death was told last year of maintenance engineers complaining of being overworked, under-staffed and bullied by management.
Lawyers for Network Rail indicated at Lancaster Magistrates' Court on Wednesday that they will be pleading guilty to breaking health and safety laws before the crash.
The court heard that the firm's systems for inspection and maintenance were inadequate and what systems there were had not been properly followed.
Network Rail is due to appear at Preston Crown Court on April 2.