Furness Academy has 'highest exclusion rate in England'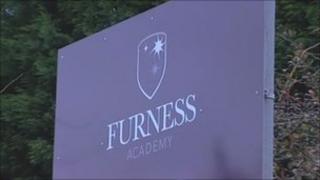 A school in Cumbria had the highest number of exclusions among academies in England during the year 2009-10.
The figures, released under the Freedom of Information Act, show 1,185 temporary exclusions from the Furness Academy, in Barrow in Furness.
That is more than 400 higher than any other academy in the country.
Principal Doug Blackledge said some of the problems were historic and had "improved considerably" since the school was created.
In the same year, there were nine permanent exclusions.
Improving
Replacing Barrow's Thorncliffe, Parkview and Alfred Barrow secondary schools, the academy opened in 2009.
Mr Blackledge said: "The early figures were high, but recent figures are less than a third of those being quoted.
"The biggest majority of those exclusions were actually caused by fewer than 2% of the students in the academy."
The academy is sponsored by Furness College, the University of Cumbria and Barrow Sixth Form College.
'Managing behaviour'
There were no permanent exclusions at any of the county's other academies.
In the same year, at West Lakes Academy in Egremont there were 215 temporary exclusions, at The Richard Rose Central Academy in Carlisle there were 200, and at its Morton site 35.
A Department for Education spokesperson said: "Academies must follow exactly the same law and guidance on exclusions as all other schools.
"Many Academies are previously failing schools that are in the midst of being turned around and this can see the exclusion level jump as new standards of behaviour are introduced.
"The overall level of exclusions in Academies has fallen year on year.
"We want to reduce the need for exclusion by supporting schools to manage behaviour and intervene earlier with pupils to address their needs.
"Where exclusion is appropriate we have introduced a new review system to provide an impartial review of a school's decision and additional safeguards for vulnerable pupils."