Red squirrel returns to Cumbrian woods after road injury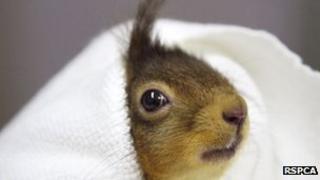 A red squirrel has been returned to the wild fully recovered after it was spotted injured on a road in Cumbria.
It suffered a fractured shoulder and was unable to move after the incident near Workington on New Year's Day.
Motorist David Graham, 25, rescued the animal and it was taken to an RSPCA centre in Cheshire.
Following two months of bed rest and painkillers, it has now been released into woodlands close to the area where it was found.
Native red squirrels are under threat from grey squirrels which carry a lethal virus.
Mr Graham was on his way back from a festive party with his girlfriend when they discovered the male animal in distress.
'Heart-warming'
"Cars were swerving all round, he wouldn't have had a chance if left where he was," he said.
"So we turned back and waited for a break in the traffic to run and get him, and wrap him in one of our coats."
"There was another squirrel dodging cars to run back and forth to him, so we were worried he would get hit also."
He added: "It's so great to hear the squirrel has now been returned to the wild in good health, I hope he finds his mate again."
The squirrel was a rare sight at the Stapeley Grange wildlife centre in Cheshire - which has in its care an average of one red squirrel a year.
RSPCA inspector Martyn Fletcher said: "It's often bad news when we are called out to traffic incidents involving red squirrels, so it's heart-warming that there was a happy ending this time."