Barrow MP John Woodcock tells of train confrontation with 'rowdy gang'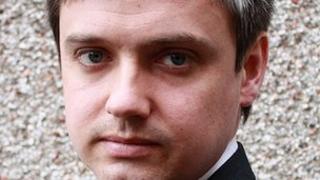 Cumbria MP John Woodcock has told how he was threatened after confronting a "rowdy gang" of men on a train.
The Labour MP said the incident happened as he was returning to his Barrow constituency on Thursday night.
He said he intervened when comments by the group became "increasingly racist and unacceptable".
The shadow transport minister said he was assaulted and had a bag thrust in his face. A man is being questioned by police over the incident.
Mr Woodcock, 33, who was not seriously injured, said: "I had got on the train at Lancaster on my way home and there were a group of lads who had been drinking and were rowdy and boisterous. The kind of thing you often see on public transport late at night.
"Unfortunately their comments got increasingly unacceptable, derogatory and when they turned racist I just thought that enough was enough.
"So I got up to talk to them and fortunately I only ended up with a bag in my face for my trouble.
'Personal safety'
"It could have been a lot worse and it's important to remember that, unfortunately, many people working on the public transport system or in the health service have to put up with on an all-too-regular basis.
"Everybody has got to make their own judgment as to whether they get involved and about their own personal safety and I can see why some people might want to confront a group of lads.
"But what is important is to report it after the fact if necessary, which is what I decided to do."
Mr Woodcock hailed the use of CCTV on public transport networks and said it was helping police with their investigation.
He added: "Those people who are against the use of CCTV in public places are frankly out of touch with reality."
Following a witness appeal, and the release of a photograph, a man handed himself in to officers.
A British Transport Police spokesman said: "Following an appeal and photograph issued earlier, a man has handed himself in to police and is currently being questioned by officers.
"The appeal related to an incident on board a train on Thursday 23 February in which a 33-year-old man was assaulted after challenging a group of male passengers about their behaviour."