London 2012: Olympics 'could cost Lake District millions of pounds'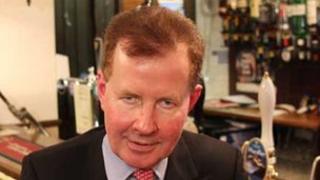 Business owners in Cumbria claim the Olympic Games is already costing the area thousands of pounds in lost trade.
Many organised tours to the Lake District start or finish in London.
Hotel manager Andy Tighe said he had lost £10,000 of bookings this year and believed it was because increased hotel costs in London were putting up the price of trips to the UK.
Tourism Minister John Penrose said 2012 would be different, but businesses would have new opportunities.
Tourism is worth about £2bn to the Cumbrian economy, with many visitors coming from Japan and other countries.
'Noticing cancellations'
Mr Tighe, general manager of the Langdale Chase Hotel in Windermere, said: "Just before Christmas we started noticing a few cancellations coming in.
"In my opinion it is because of the Olympics and the cost of hotels in London."
Chairman of the Lake District Hospitality Association and hotel owner, Jonathan Denby, said: "This five-week period during the Olympics is the most important time of the year,
"It is going to cost my hotels tens of thousands, we know that. The Lakes as a whole, undoubtedly millions."
'Big opportunities'
The government is launching a £4m campaign in March to attract tourists to all parts of the UK.
Mr Penrose said: "The question which we are trying to grapple with is, how do we maximise our chances of making sure that the tourism benefits and all these visitors who are going to be coming to Britain aren't just concentrated in London, but are spread right the way across the country?"
Mr Penrose acknowledged "2012 will be different" but believed many areas will benefit.
"The kinds of people who are coming to Britain will be different, the reasons they are coming here will be different. But that change has huge opportunity wrapped up in it, as well as some risks", he said
"So nobody should be thinking they've got to take a hit at all - in fact there are some really big opportunities out there if you can just grab them."
BBC Inside Out North East and Cumbria is broadcast on Monday 27 February on BBC One at 19:30 GMT and nationwide on the iPlayer for seven days thereafter.