Windermere's Canada geese cull prompts petition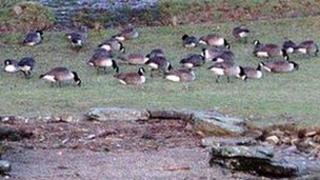 A petition against a proposed cull of up to 200 Canada geese has been handed in to authorities in the Lake District.
Rangers claim up to 1,000 of the birds have been causing environmental problems on Windermere and other control measures have failed.
Officials pledged any cull would be carried out "sensitively" using silenced shotguns.
About 2,600 people signed a petition urging the Lake District National Park Authority to reconsider.
Neil Ryding, who organised the petition, said he believed wildlife was a large draw for visitors to the Lake District.
His campaign has been endorsed by TV presenter Bill Oddie and Queen guitarist Bryan May.
Mr Ryding said: "There's a programme which is proven to reduce numbers by humane methods such as egg oiling and other things, which haven't been properly adopted.
"When they received the petition, they were also given a full list of questions and a list of the procedures.
"They should be able to see that going to shoot these birds is just wrong."
National park director Bob Cartright said: "It's not a surprise that people are concerned, but I believe some of these concerns are misguided about what we are doing and how we are doing it, if it indeed goes ahead.
"I am please people are expressing their views, they will be taken into account before a final decision is made."