Cumbria health boss John Ashton defends NHS reform letter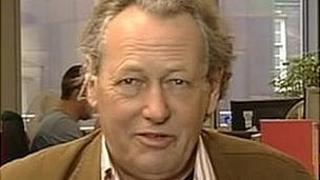 Cumbria's director of public health has defended his right to speak out on the government's planned health reforms.
Prof John Ashton co-signed a letter in a newspaper earlier this month. It defended the Royal College of GPs' chair, who oppose reform.
He was then summoned to a meeting with regional health bosses after being told his actions were "inappropriate".
He has now demanded an apology from Health Secretary Andrew Lansley saying he felt he had been bullied.
NHS Cumbria said in a letter to Prof Ashton that he should not express his personal views and told him to attend a meeting planned for Friday.
He claims the Department of Health is behind moves to "gag" him and has demanded an apology.
He said: "Trying to gag me at this stage in my career won't have an effect.
"As a public health director and as the advisor for public health to the county of Cumbria... I have the freedom to speak out on matters of interest.
"I am not acting politically, I am acting professionally, drawing on the evidence of what will happen if we go down the road to private health insurance.
"The PCT was told to do this from the Secretary of State's office and I want an apology for that because I feel bullied.
"To get a letter like that, delivered to your house out of the blue, is unacceptable."
A spokesman for the Department of Health said all decisions about Prof Ashton had been made by his employers.
He added: "Therefore, there is no need for Andrew Lansley to apologise because he has not been involved."
Prof Ashton was one of a number of signatories of the letter in The Independent newspaper talking about widespread opposition among health professionals to the bill.
Proposals in the Health and Social Care Bill include giving GPs control of much of the NHS budget and opening up the health service to greater competition from the private and voluntary sectors.
In a statement, NHS Cumbria said NHS organisations must always remain non-political but added the planned meeting was not disciplinary.
An NHS Cumbria spokesperson said: "NHS clinicians are always free to express their opinions as individuals and NHS Cumbria has never stood in the way of anyone expressing a personal view.
"Every senior manager in the health service has to nonetheless be mindful of expressing their views on political issues as individuals, and not on behalf of the NHS organisations for which they work."