Cumbria health bill critic asked 'to explain'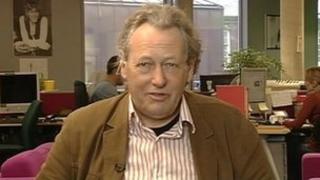 A senior doctor from Cumbria has been summoned to a meeting with county health chiefs after expressing concerns about the government's health reforms.
Director of public health and county medical officer Prof John Ashton was among those who signed a letter in a newspaper earlier this month.
It defended the Royal College of GPs' chair, who opposed the reforms.
NHS Cumbria said NHS organisations must remain non-political but said the meeting was not disciplinary.
'Heavy-handed'
Proposals in the Health and Social Care Bill include giving GPs control of much of the NHS budget and opening up the health service to greater competition from the private and voluntary sector.
Prof Ashton was one of a number of signatories of the letter in The Independent newspaper talking about widespread opposition among health professionals to the bill.
The letter sent to Prof Ashton said: "You are bound by the NHS Code of Conduct and as such it is inappropriate for individuals to raise their personal concerns about the proposed government reforms."
It said he would be asked to "explain and account for the actions you have recently taken".
An NHS Cumbria spokesperson said: "NHS clinicians are always free to express their opinions as individuals and NHS Cumbria has never stood in the way of anyone expressing a personal view.
"Every senior manager in the health service has to nonetheless be mindful of expressing their views on political issues as individuals, and not on behalf of the NHS organisations for which they work. NHS organisations must always remain non-political.
"The meeting with Professor Ashton this week is not a disciplinary meeting but is to ensure that he is always mindful of these differences."
'Fight our corner'
Health Minister Simon Burns said the letter was not from ministers or the Department of Health.
He said: "I have not seen the letter but clearly PCTs should not be employing heavy-handed tactics.
"Instead, they should be supporting GPs as we hand power to doctors and nurses on the front line."
He said GPs around the county were making their views known, both for and against the bill.
Labour Copeland MP and shadow health minister Jamie Reed said: "Prof Ashton is a notable public servant and a superb asset for the people of Cumbria.
"We are fortunate that we have such a man to fight our corner."