Chris Bonington named as Cumbrian scout ambassador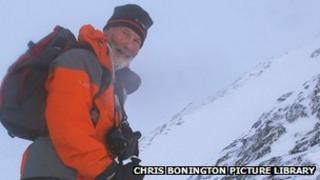 Sir Chris Bonington has been named as an ambassador for The Scout Association in Cumbria.
The mountaineer joins Carlisle MP John Stevenson and Carlisle construction company owner Fred Story as Cumbria scouts' third ambassador.
As a child, Sir Chris was in the cubs while at school, an experience he said introduced him to "the adventure, fun and challenge of scouting."
The organisation has about 4,000 members in the county.
Sir Chris said: "When they [the scouts] approached me I was delighted to accept the invitation because I think scouting is tremendously worthwhile.
"I think it gives young people an introduction to adventure and to all kinds of other things as well."
Sir Chris hopes that his involvement will help raise the profile of the the local organisation and encourage more adults to offer their support.
Leader of Cumbria scouts, Graham White from Barrow, said: "Nationally scouting benefits from support from high profile ambassadors such as Lord Coe, Ian Hislop, Justin King and Chris Evans amongst others.
"We are very pleased to be following that lead and to announce that Sir Chris has agreed to join our team of Cumbrian scout ambassadors to help us to continue to raise the profile of and advocate for scouting."
The organisation was started by Robert Baden-Powell on Brownsea Island, Dorset more than a century ago. It has more than 28 million members worldwide.
Sir Chris will be officially appointed in the summer.