Thousands sign petition to save Cumbria care homes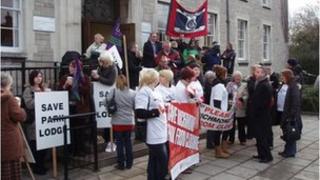 More than 10,000 protesters have signed a petition opposing the planned closure of three care homes in West Cumbria.
Cumbria County Council is planning to shut Park Lodge in Aspatria, Woodlands in Distington and Richmond Park in Workington.
The council said the homes were outdated and struggling to meet residents' needs.
It wants to invest more money in dementia care and support so people can live in their own homes.
If the closures are approved, they would not happen for about a year and alternative places for the 58 residents would be found, the authority said.
Two homes, Inglewood in Wigton and Parkside in Maryport, have also been earmarked for an upgrade, to help them support people with dementia, as part of the proposals.
Conservative councillor, James Airey, who is portfolio holder for adult social care for the county council, said all views would be taken into account before a decision on the shake-up was made in the summer.
A three-month consultation into the plans ended on Tuesday.
'Not set in stone'
Mr Airey said: "We have had a varied range of responses some clearly against the closure of the homes, but the closures are just part of the consultation, with nothing set in stone.
"But a lot of people are actually very positive about some of the significant investment that we are proposing.
"It is a shame we are not receiving petitions saying there are some great ideas about re-investing in dementia care and trying to help people stay at home longer."
Sheila Scott, of the National Care Association, said everyone involved in social care was focusing on supporting people in their own homes.
But she said: "The key question is are we certain that people living in their own homes are getting the support they need?
"It can be a very lonely life living alone."