Cockermouth flood defence plan approved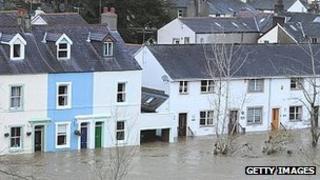 Funding for a flood defence scheme in Cumbria has been approved by the government and the Environment Agency.
About 360 homes and 55 businesses in Cockermouth will be protected by the £4.4m defence works, with construction due to start later this year.
As part of its partnership funding model, the government will provide £3.3m, with the rest coming from the county council and the local community.
The town was devastated in 2009 by flooding caused by record rainfall.
The Environment Agency said it had involved local people in the drawing up of the designs.
It was one of 60 flood and coastal risk schemes given approval on Thursday.
Richard Benyon, Minister for the Natural Environment and Fisheries, said: "Small towns like Cockermouth and Morpeth became household names after the devastation and distress caused by flooding in recent years.
"Today, residents here and in many towns across the country are reaping the rewards of the partnership funding model brought in to enable more flood defence schemes to go ahead."