Walney Offshore: World's largest wind farm to open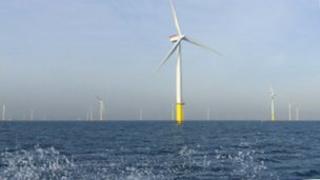 The "world's largest" offshore wind farm, off the Cumbrian coast, is being officially opened having been built in record time.
The farm off Walney Island in Barrow has been developed by Danish energy company Dong Energy, and will generate enough electricity for 320,000 homes.
There are 102 turbines, each slightly taller than the London Eye.
Jens Hansen, the project's director, said the build had been "challenging and very, very hard".
He added: "It's a hard job, extremely hard work to do such a big, large offshore wind farm. There's a lot of money involved, one billion pounds."
The farm was built in two phases. Work began on the 51-turbine Walney One project in March 2010. Walney Two added 51 more to the farm, which lies 9.3 miles (15km) west of Barrow.
Energy Secretary Ed Davey said the coalition still saw wind farms as the future of the renewable energy sector.
He said: "We're celebrating for Cumbria and for Britain and for the green energy movement this fantastic success, the biggest offshore wind farm in the world, and the fastest built so far."
He added: "The good news for Cumbria is that there will be jobs in the energy sector in Cumbria, supporting employment and livelihoods in Cumbria, so that is a real dividend."
There are already two 30-turbine wind farms on the Cumbria coast, the Barrow Offshore and the Ormonde Offshore.
Ormonde and Walney together will produce enough renewable energy for about 445,000 households.