New rural base for Cumbria Police in Cockermouth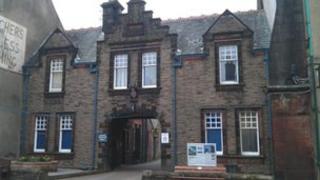 A new police station in Cockermouth will act as a rural base for Cumbria, the force says.
The Victorian facility on Main Street, which was badly hit by the 2009 floods, has been described as "picturesque" but no longer fit for purpose.
Proposed premises on Europe Way would have better road links and be cheaper to maintain, said the force.
As part of an overhaul of police buildings, stations in Keswick and Wigton will also be sold.
The new Cockermouth building will be used as a central base for the Allerdale Rural Neighbourhood Policing Team.
Chief Constable Stuart Hyde said: "In the wake of budget cuts, we are challenged with maintaining a police service in Cumbria with less money.
'Protecting communities'
"A review of the existing police estate showed that many of our police stations are outdated, expensive to maintain and no longer fit for purpose.
"Cockermouth Police Station was designed in the Victorian era.
"It looks picturesque, but it does not provide the kind of accommodation we need to provide a modern police service to local communities.
"Europe Way will enhance our service by providing better accommodation for our officers and staff and better access to the local roads network.
"It will be cheaper to maintain and will mean we can focus on protecting communities in rural Allerdale."