Naked pedalo pair abandon third Atlantic crossing bid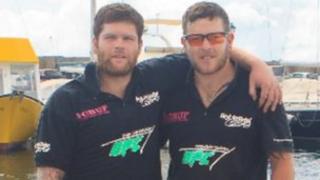 Two men abandon their third attempt at crossing the Atlantic while naked on a pedalo after two previous failed bids.
Kieran Sweeney, 26, and Callum MacDonald, 25, of Cumbria, wanted to raise £50,000 for the Children's Heart Unit at Newcastle's Freeman Hospital.
They were rescued by helicopter during a severe storm a week after food poisoning scuppered their second attempt at the 3,000 mile crossing.
Their first attempt, in December, was halted by a broken drive system.
The men, from Whitehaven, had been wearing no clothes on the trip from Gran Canaria to Port St Charles in Barbados to avoid chafing from material soaked by salty sea water.
Mr Sweeney said strong weather had been forecast, adding: "Gradually it got worse, the swells got bigger... the winds picked up.
"Waves over the top capsized us. So it was a case of, you know, how long's this going to last? It was supposed to last for six more days.
"It was scary."
'Hit by car'
Mr Sweeney added that sleeping during rest periods was almost impossible and described the boat's battering as like "getting hit by a small car".
He said: "We capsized a few more times but the boat's designed to self right, which it did.
"The boat stood up to everything that was threw at it, which I'm pleased about, but it was at that point that we decided safety first."
They sent a distress signal and, with the boat leaking, radio signalled for assistance.
The pair returned to Whitehaven after losing their vessel to the storm but said they intended to make a fourth attempt later in the year.
Mr Sweeney, who designed and built the original 22ft pedalo himself, said he is now working on the design for a new boat.
He said: "It's probably not the best idea I've had. It's probably the craziest but we're definitely capable of doing it."