Barrow submarine builder BAE Systems takes on 136 apprentices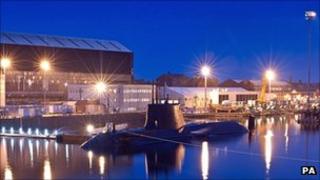 Defence giant BAE Systems is to recruit 136 apprentices at its submarine building business in Barrow, Cumbria.
The company, which employs more than 4,000 people in Barrow, said it was the highest intake for five years.
The apprentices will train as steelworkers, pipe fabricators, electricians and submarine designers.
They will help build seven nuclear-powered Astute Class submarines and work on early designs for the new Successor Class submarines.
Successor - the replacement submarine to the Vanguard Class - was given the green light by the government last year and is scheduled to enter service in 2028.
A further 129 roles will be located at the company's military aircraft business in Lancashire, its maritime businesses in Portsmouth, Hampshire, and Glasgow and at its electronics business in Rochester, Kent.
'Invest in skills'
A BAE Systems spokesman said the numbers of apprentices required at Barrow, which is the UK's only submarine building yard, was necessary to maintain skills unique to the maritime sector.
Group managing director Nigel Whitehead said: "Our apprenticeship programme creates a pipeline of exceptionally talented young engineers who are critical to the long-term future of BAE Systems.
"In tough economic times it is even more important that businesses plan for the long term and continue to invest in skills and developing talent in the workplace."
The apprenticeships were announced at the beginning of National Apprenticeship Week, which runs from 6 February 6 to 10 February.
BAE Systems has around 1,000 apprentices training in its three-year apprenticeship programme.