Windermere's 'polluting' Canada geese to be culled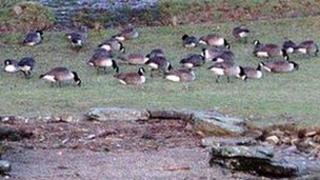 About 200 Canada geese are to be culled in the Lake District.
Rangers say the 1,000 geese in Windermere have been causing environmental problems by grazing and polluting the lake with droppings.
They insist the cull will be carried out "sensitively" using silenced shotguns, in spring when the geese start to nest.
The geese pair for life and, as the male and female will be in one place, the process will be less cruel.
The Canada goose was first introduced to England in the 17th Century to grace the waterfowl collections of wealthy individuals.
With few natural predators, they are now listed as a "pest species" by Natural England.
Steve Tatlock, Lake District National Park Authority ranger, described the cull as the end of a long process.
'Reduce stress'
"We've tried all the ways that are often successful in small urban areas, such as fencing or egg oiling, but it's only made a small difference," he said.
"This is not something we will do lightly. It's not a question of blasting them out of the skies or off the water.
"This is going to take place on land, and at that time of year we are pretty sure we can get pairs in one go to reduce the stress."
He added: "Its a sensitive issue, controlling wildlife whether natural or introduced.
"We're aware of that, but we're involved in the wider management of a wider environment here.
"It's about controlling the impact that invasive species have, and maintaining a natural balance."