Carnivorous plants removed from Lake District bog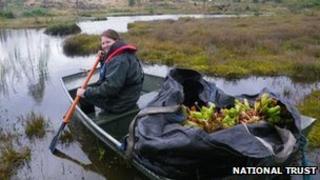 Rangers and volunteers have weeded out carnivorous plants which were choking out wildlife in a Lake District bog.
The National Trust said thousands of pitcher plants had been growing at Nor Moss, on Claife Heights, near Hawkshead.
It said the plants were forcing out other plants in the area, which is part of a Site of Special Scientific Interest.
A boat was used to reach the plants and thousands were pulled out by hand.
The pitcher plants, which originated in North East America, have cavities containing liquid which digests prey falling into them.
National Trust Ranger Richard Tanner said: "Not only were the pitcher plants taking over, they were competing with other native insectivorous species such as the Sundew.
"This isn't just bad for the insect population, but also the birds which eat the insects - it's not good all round."