Chris Bonington's papers and documents archived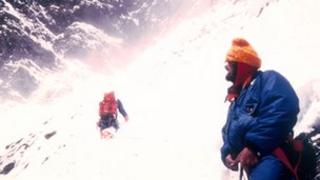 A two-year project to preserve personal papers of mountaineer Sir Chris Bonington has been completed.
Expedition documents, press cutting scrapbooks and manuscripts dating back to the early 1950s are being made available by the Mountain Heritage Trust.
Sir Chris started climbing in 1951 at the age of 16 and he pioneered new rock routes in the UK.
He scaled Everest in 1985 at the age of 50. He has lived in Cumbria since 1974.
Maxine Willett, head archivist from the Penrith-based trust said the archive "shows a wonderful heritage" of a climbing career.
'Criticised fellow climbers'
Over the years Sir Chris has collected many documents that relate to his climbs and expeditions.
This archive spans expeditions over the last 48 years.
Some documents will not be made public until after he has died.
These include diaries which he describes as "intensely personal". He has asked for them to remain unpublished for 50 years.
"With the diaries there were times I would be criticising my fellow climbers, who are also close friends," he said.
"Very often that criticism is made at the heat of the moment and when you look back at it, three days later, you realise that it was really unjustified.
"I would rather not have that come out now."
Contents of the archive will be used in exhibitions and can be viewed by appointment at The Mountain Heritage Trust in Penrith.