New puppies to join Cumbria Constabulary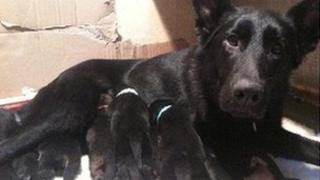 Cumbria Constabulary will welcome the arrival of its newest and youngest recruits next week.
The three German shepherd puppies, which are eight weeks old, will start a six-month programme working alongside their handlers to form a bond.
The pups were donated from the dog breeding programme at the Isle Of Man Constabulary.
They will join the 12 police dogs and 12 drugs and explosive dogs currently assisting Cumbria Constabulary.
The two females and one male are replacing three police dogs which are due to retire.
Sgt Mark Yielder from the Dog Unit at Cumbria Constabulary said: "The next six months is all about familiarising the dogs with as many new people, places and experiences as possible, so that they are able to deal with any situation they're faced with when they start work."
Members of the public will be able to follow the progress of the pups on Facebook and Twitter.